Upload Contracts Information to Works Manager Online Website
Works Manager Online gets its contracts details from the Works Manager desktop application where details of the contract and award documentation are stored. When a contract is awarded to a contractor, the details of that contract stored Works Manager are uploaded to the Works Manager Online website ready for monitoring from when contractor moves to site to completion of the contract.
To upload contracts details to Works Manager Online website, download the details of the contracts that need to be monitored from the Works Manager desktop application. The download must be in .xml format.
Upload the details following the steps below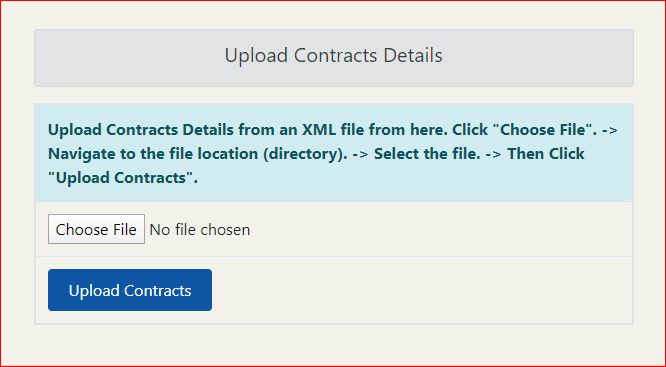 Navigation:
Works Manager Online =>User Management and Operational Data.
Scroll to the section Upload Contracts Details.
Then click Choose File.
Navigate to the desired folder containing the .xml.
Select the file.
Click Upload Contracts.
When the upload completes, navigate to Works Manager Online =>Contracts.
The contracts details you just uploaded should be on the list.
You can search to confirm.